How To Do It? With A Flat Fee MLS Listing By Owner, That's How!
First, a quick review about an MLS Listing.
MLS is a property listing database used by licensed real estate agents and brokers to list their sellers' homes and properties and to alternatively find homes for their buyers that have been posted by other real estate agents.
Here's the best part of the MLS, every listing is automatically posted to hundreds of internet real estate websites, including the big ones – Zillow, Trulia and Realtor.com as well as all the real estate brokers websites.
Some of those sites get their listings exclusively from the MLS. This means that unless you have access to the MLS yourself, you can't list your home on these sites.
Not fair right? But there is hope yet.
Now, back to the Flat Fee MLS Listings.
A "flat fee MLS Listing" is a service offered by a state-licensed real estate broker. This real estate broker will work with you to set up an "Entry Only" service on the local MLS platform.
Pro Tip: Each MLS is in fact local to your area. According to Showcase IDX, there are approximately 600 MLS's in the United states. This number is constantly changing because of mergers and consolidations.
You will want to ensure that you list your house in the correct local MLS and not just any MLS. Also, there is not a national MLS at this time. They are in fact all local to the state, county, or group of counties and sometimes even at the city level!
You list your house with the real estate broker BUT they only provide you with a listing in the MLS and don't provide any other services. You still retain the right to sell your house for sale by owner.
This service is a lot less expensive (only a couple hundred dollars) than what you would have to pay in commission to a full-service listing agent. Keep in mind, you still have to offer a commission to a buyer's agent, more on that later in this article.
So, if you want to list for sale by owner on MLS, a flat fee MLS listing is your best and only option.
Follow These Steps to List Your House On the MLS For Sale By Owner:
1. Research to Find the Best Flat Fee MLS Broker In Your Area

2. Purchase a MLS Listing for a Flat Fee

3. Provide Your Homes Property Information

4. Upload the Exterior & Interior Photographs

5. Sign an Exclusive Agency Listing Agreement

6. Your House Will Then Get Posted to the MLS
Get Started Listing Your Home In The MLS
What Comes With A Flat Fee MLS Listing Service?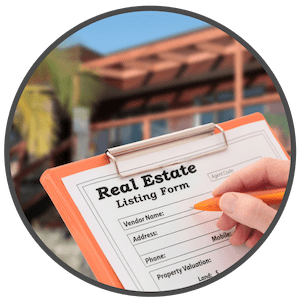 While listing your house on the MLS sounds like a no-brainer, it's also good to know what you can expect from the flat fee MLS listing service.
First, understand that the real estate broker offering this service will be acting as your "listing agent" (without the commission, of course). They will be your access point to the MLS and will be the ones officially managing the listing on your behalf. You can view the broker as your lead generator – with the lead being a potential buyer.
At the beginning of the process, you'll be given forms to fill out, usually done online and not a paper form. Remember, this is a real estate listing service, so all of the relevant details about your house will be needed to make sure the listing is complete and accurate.
The listing service broker will enter the information provided into the MLS and they will be shown as the listing agent. But they will put the homeowner's contact information into the listing for buyer's agents to set up showings, negotiations, or for any additional information.
The length of time your house will stay active in the MLS is usually around 6 months or 12 months, but this is something you can verify with the listing service you hire.
Once listed in the MLS, you'll be the one who stages and shows the house, plans and carries out additional marketing, holds open houses, handles negotiations with buyers, and more.
Remember, you are the seller. The flat fee MLS listing service is acting as a lead generator for you – sending potential buyers agents to you so you can follow up and set up appointments to show these potential buyers your house. Everything else is on you.
Once you find a buyer and accept an offer, you'll go through the closing process, pay the buyer's agent their commission, submit the closing information to the MLS listing service and you're done.